U.S.NEWS, February 29, 2020
Serbia Passes Law in Response to Missing Babies Scandal
Serbian lawmakers have approved a long-awaited law that aims to shed light on the fate of hundreds of children whose parents fear might have been stolen from birth clinics.




ENGNEWS 24H, February 28, 2020
Amendments to the Missing Babies Act reached
Prime Minister Ana Brnabic met with representatives of the Missing Baby Parents Association this afternoon. Prime Minister Brnabic initiated the meeting to personally hear their remarks and concerns regarding the Bill on Facts on the Status of Newborn Children Suspected of Missing from a Maternity Hospital in the Republic of Serbia, which is in the parliamentary procedure.
The meeting was attended by representatives of the Belgrade Group of Missing Baby Parents, representatives of the A11 Initiative, the Open Society Foundation, and MP Tatiana Macura of the Party of Modern Serbia. The meeting was also attended by representatives of the Republic Legislation Secretariat, the Ministry of Justice, the Ministry of the Interior and other state bodies.




KERI'S BLOG, September 3, 2013
Searching For My Daughter, A Human Trafficking Tale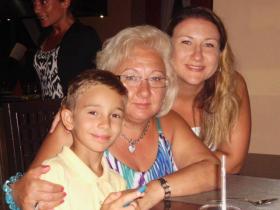 My name is Ljiljana Milovanovic, one of thousands of Serbian mothers who are searching for the truth in regards to what happened to the babies we gave birth to in Serbian hospitals.
On that fateful day in June 2011 as I had unknowingly gone to Krusevac City Hall to request some family papers, I happened to ask for the archived documents for my deceased daughter. Instead of receiving a death certificate for my baby, I was horrified to see a copy of a live birth registration from the Hospital for her. I subsequently was further horrified to obtain a copy of a subsequent birth registration for her on a separate date and time, with my forged signature.


Daily Jurnal VEČERNJE NOVOSTI, March 25, 2006
Constitution of inquiry committee for missing babies
Time for truth
This unit is supposed to consist of specialists who deal with blood delicts, organized crime and people trafficking and who would report directly to the Minister who would then notify the Safety committee about the information the police had required


Daily Jurnal POLITIKA, July 21, 2005
Constitution of inquiry committee for missing babies
Time for truth
Procession of about 3,000 cases which suppose stealing children from maternity hospitals
The committee will have to process individual cases and its members will have to be educated on the procedure at maternity hospitals, especially about filing newborns' deaths. "If we help in proving one case of child stealing the authorized bodies will have to start a procedure


Daily Jurnal VECERNJE NOVOSTI, August 4, 2003
Fight for the truth of family Jovic from Krusevac about allegedly deceased child reveals scandalous information
DNA at correction
According to the DNA test, tissue samples enclosed from the pathology ward in Krusevac do not belong to the child of Milanka and Miloje Jovic, and to make the whole situation more complicated the Institute for forensic medicine in Belgrade found that the tissue parts belong to several different people


| | |
| --- | --- |
| S H A R E | P O S T E R S |